Green and clean energy is on the rise! It's never been more popular for homeowners and businesses to go solar—but getting solar leads has also never been more competitive.
You need marketing that works for you.
Search ads that deliver leads

Ranking organically in relevant search terms

A CRM that works with your business
We Understand The Unique Challenges You Face
Commercial Solar
If you're a commercial solar installer partnering with an agency that understands the unique B2B & B2G challenges that come with the territory is the key to getting big projects in the pipeline. RELLO has worked with some of the solar industries leading brands to pave the way for large scale projects.
Residential Solar
The ever-shifting landscape of residential solar requires installers to be nimble and smart. Working with our veteran solar marketing team will help you get the data driven marketing campaigns and infrastructure do scale expand and scale efficiently.
Solar Storage
Are you looking to increase revenue per sale and increase profitability. Solar battery storage like Tesla Powerwall and Enphase battery solutions are helping installers maximize their customer value. We understand the unique challenges of marketing storage solutions and close more deals.
Community Solar
Community solar requires a unique approach to marketing that few agencies understand. Our team has the experience and expertise to support your community solar operation's marketing goal.
Solar Finance
Combining our experience in the renewables, tech and finance markets we provide marketing support for solar finance partners. If you're looking to work with more solar companies RELLO can help you refine your approach to developing renewable energy clients.
Renewable Energy
In addition to solar, we also work with other companies in the renewables space outside of solar. Our depth of experience across renewable energy will enhance our ability to refine your strategy and deliver results.
We don't just talk about growing solar companies. Our team of solar marketing experts has years of experience running innovative and profitable campaigns for some of the top installers in the nations. From coast to coast we've worked in every major market driving profitable growth oriented companies.
GARDNER ENERGY
We helped Gardner scale residential and commercial solar installs
SOLECT ENERGY
We helped Solect Energy scale commercial solar project acquisition.
SOLAR UNION
We helped Solar Union scale organic Traffic
Put your business in front of solar-ready buyers when they're searching to buy. Delivering high quality, relevant search ads lets you be the customers answer exactly when they're most ready to convert. 
Buy-ready customers

Real-time conversion data and analytics
A lead source that can adjust to your installation bandwidth.
Let's work together today to get you data-backed, buy-ready customers when you need them. 
Be Easily and Readily Found Online
Nearly all buyers now use search as a part of their purchase decisions. When your customers start considering solar, you can be the company that answers their questions. Build long-lasting organic lead sources that develop your brand and improve your bottom line.
With a robust CRM and marketing platform you can know your customers and oftentimes meet their needs through automation. 
Deliver timely updates and reminders automatically.

Get insight into what channels deliver the most valuable customers.

See your entire sales pipeline in one easy to use view.
So many businesses don't know what's possible with a robust CRM. But that doesn't have to be you! Let's work together and explore your opportunities.
Download Solar Agency Buyers Guide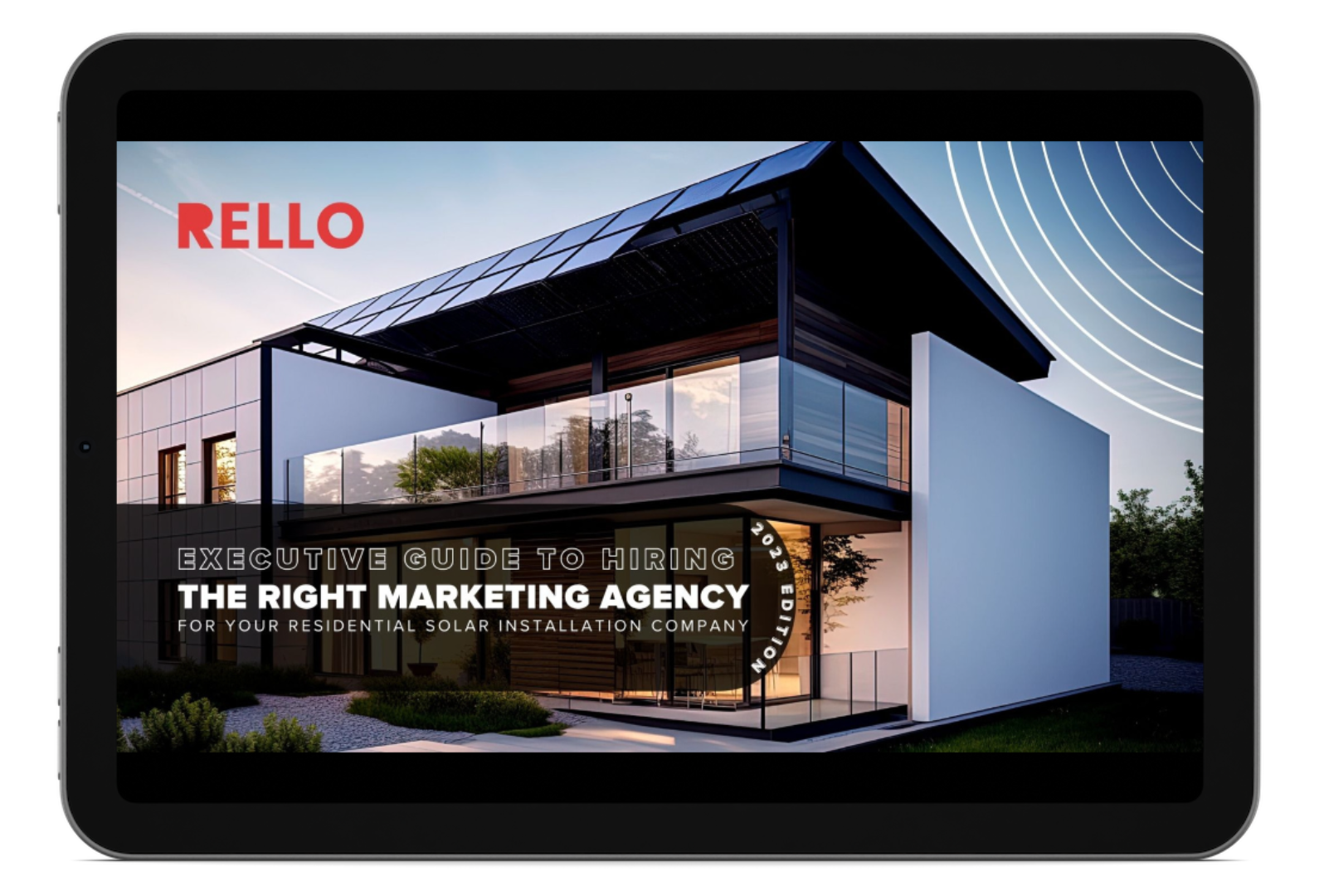 Solar Companies We've Worked With
RELLO can do the same for you. Contact us today for a complementary marketing audit.